John Davis Gallery John Lees: Painting /Janice Nowinski: Recent Paintings Oct 10 - Nov 3, 2013
back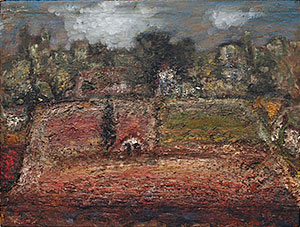 John Lees
Umbrian Landscape
2001-12
oil on panel
17¾ x 23¼ in.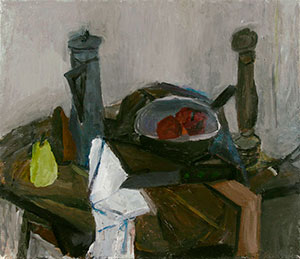 Janice Nowinski
Still Life with Fork
2010
oil on linen
24 x 28 in.


If you missed the John Lees exhibition at Betty Cuningham last spring, you can catch up with the artist's work (and in fact view a number of the same pieces) at John Davis Gallery in Hudson, NY, where nearly two dozen of his paintings are now on view. Followers of Lees will immediately recognize his encrusted, luminous layers of color that lend a transcendental glow to paintings poised somewhere between cartoons and devotional images. Some works impart to everyday sights – a kid with a baseball cap, a panoramic view of a farm – a dream-like aura. Others have more fanciful subjects; in one, a rising object, perhaps a large snorkel, confronts a woman in her bathtub. Lees' quirky intimations feel a little less fresh when viewed by the roomful – one can absorb only so much knowing naivety – but a number of works stand out for their original force. "Umbrian Landscape" (2001-12) shows some of the soulful completeness of Rouault; "Man Sitting in an Armchair" (2013) goes beyond an atmospheric glow to impart, through the rhythmic resolve of its forms, a poignant sense of peaceableness and belonging. 

Among the four installations in the carriage house behind the main gallery, an exhibition of paintings by Janice Nowinski is especially impressive. Nowinski's sixteen portraits, figure paintings and still lifes may not be groundbreaking in terms of style. Her consistently brushy surfaces and predilection for darkish greens, browns and earthy reds suggest a dogged probing more than a facile brio. But Nowinski's instincts for color, and for amplifying its expression through drawing, resonate throughout her paintings, powerfully evoking the inner character of her subjects, whether people, furniture, or tableware.

What is a true painted likeness? Nowinski's compositions size up the attitude of each subject in the wholeness of its masses and its unfolding of detail—all as revealed by a particular kind of illumination. Their truthfulness lies in a painter's ultimate means of description: the gathering of pressures of drawing and color. In the remarkable "Paul" (2009), a series of red-browns becomes a seated person: slightly shadowed belly, leading to illuminated chest, their joined mass culminating in tautly squared shoulders, which in turn support the head – complexly modeled and shadowy in its pensive, downward tilt. The subject feels human and whole, not through an inventorying of details, but through an eloquent cohering of forms. 
   
Despite her preference for darker hues, Nowinski's colors are never merely tonal. They retain their independent energy over both subtle and dramatic movements of tone. Even the more diminutive compositions here are animated by contrary notes of tone and color. In the small canvas "Upside Down Nude" (2013), for instance, a reclining figure angles towards the viewer, her movement through the depths vitalized by shifts of color: vivacious pink of hip, medium-dark red for the belly, a return to pink, only more subdued, for the shoulders.

But the strongest painting for me is "Still Life with Fork" (2010), which turns a still life into a luminous convergence of events. In this charged canvas, each element reveals what it is according to what it does. The spindly, dark towers of a pitcher and a pepper shaker face us, their tops almost at our eye level, enclosing between their long, drawn-out forms a background of spacious warm grays. Below – almost unfathomably below, it seems – the insistent horizontal of a kitchen locates the table top. Behind the knife, the curving rim of a pot looms into this gap of grays, looping low across, its arc punctuated by the sudden radiating note of its handle. The tabletop itself, spreading across most of the canvas' lower half, is measured out by assorted red-browns and the single brilliant white vertical of a piece of fabric.

Verbal descriptions can't do justice to these purely visual effects; suffice to say that powerful painting instincts have imparted a deeper reality to these common objects. Chardin, the great 18th-century painter, preferred a low point of view that intensified the play of verticals above and below a shelf. In this painting, Nowinski starts with a higher viewpoint, but ends up with a great deal of the same contrapuntal vigor. She makes the ordinary vitally new – perhaps the best measure of artistic generosity.       
John Davis Gallery
362½ Warren St., Hudson NY 12534
518.828.5907 · www.johndavisgallery.com back